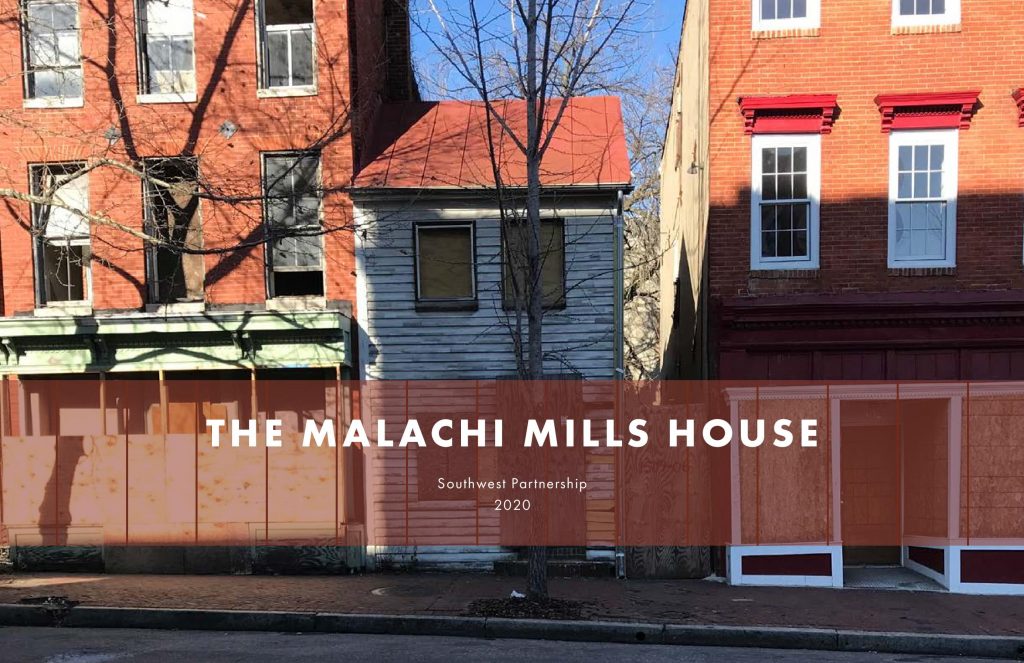 A carpenter's work is more than just hammers and nails! If someone says that a carpenter's work is simple, simply remind them that it's not just a work of art but each project is a milestone, an artifact, a community asset, a valued place-making opportunity for some resident to enjoy or consume. Malachi Mills was a carpenter in the 1800s who seized an opportunity and made history. Was he the first, maybe not but for more than 150 years his property stood and is still standing to this day, at 1504 West Baltimore Street! The SWP wants your input for the preservation of this historical asset along the Baltimore Street corridor. 
"It is really amazing that a little two-story wooden structure would remain through all the changes of the surrounding neighborhoods, and we want to ensure that this building will remain for another 200 years for people to learn about the history of the West Baltimore Corridor and all of the people who have called these neighborhoods home" – Historic Preservation Committee of the Southwest Partnership. 
Read more here about the history of the Malachi Mills property and how we intend to preserve this cultural community asset! SAVE THE DATE and join us, Monday, August 17th for our Historic Preservation Committee meeting as we talk our next steps of restoration and preservation!
Update status report
What is the next phase of development for the preservation of the property?
How can you be involved?
Join the Historic Preservation Committee meeting via Zoom at 6 PM on Monday here.