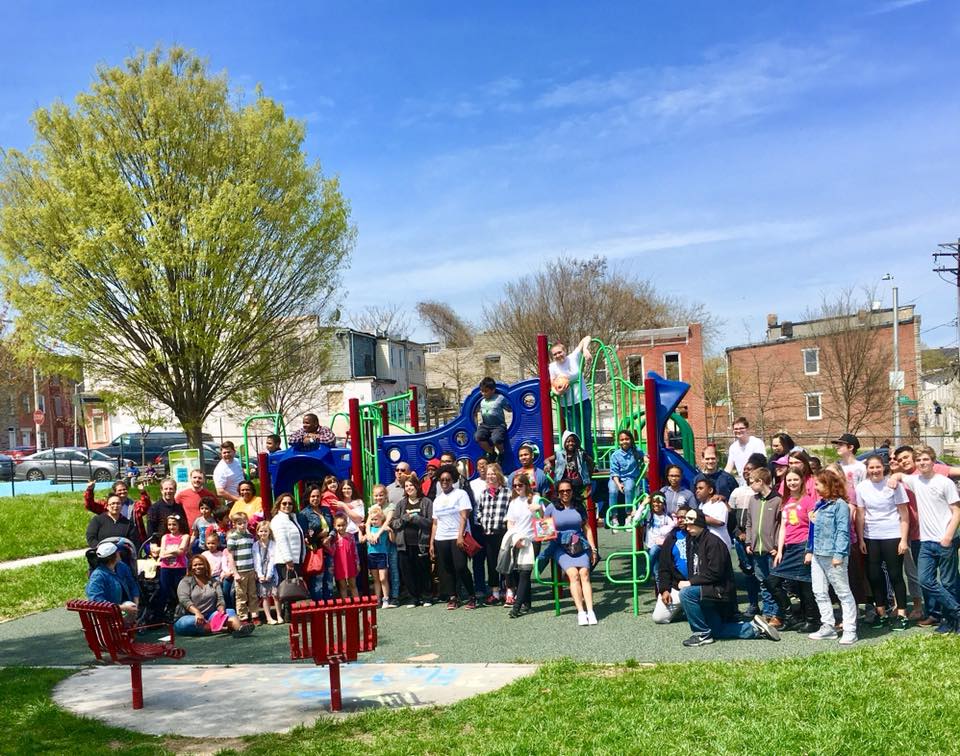 Boundaries and Map
Mount Clare is located in the southwest of the Southwest Partnership area. Its boundaries are Carey St to the east, Carroll Park to the south, Fulton Ave to the west, and Pratt St to the north.
Brief Neighborhood History and Description
The Mount Clare Community is a proudly diverse and thriving neighborhood in South West Baltimore City that has a rich history and is full of character. The row homes in Mount Clare were originally built during the early-mid nineteenth century to accommodate the labor force that was responsible for establishing, supporting, and working in the rapidly growing industry of the first commercial railroad in America.  Mount Clare has historically been a working class immigrant community and had a large proportion of German families living in the neighborhood.
Today, Mount Clare is an eclectic neighborhood with a significant number of families from Latin America and a melting pot of different ethnic groups. It is also one of the seven neighborhoods that is included in the Southwest Partnership initiative. This up-and- coming neighborhood shares the name of the historic Mount Clare Museum House that is located directly to the south in Carroll Park. Its boundaries are Carey Street to the east, Carroll Park to the south, Fulton Avenue to the west, and Pratt Street to the north. Mount Clare offers the best of accessible city living with its close proximity to the neighboring Ravens' and Orioles' stadiums, MARC train station, Carroll Park golf course, major highways and downtown Inner Harbor.
The neighborhood features Traci Atkins Park, a welcoming communal green space that includes a playground and basketball court for the community to enjoy. The area also has an active community council that is composed of individuals and organizations that sponsor events and activities throughout the year for its residents. Mount Clare has the privilege of being home to the new horse stables for the Baltimore City Police Mounted Unit and its state of the art educational facilities. With the rapid continuing revitalization of Southwest Baltimore, the quality of life continues to increase in this advancing and charming neighborhood.
Neighborhood Information:
Sites of Interest
Sharing the name of the neighborhood, the Mount Clare Museum House is directly to the south in Carroll Park. The former home of Charles Carroll, Barrister, a noted Maryland Patriot during the Revolutionary War the Museum House offers a glimpse into the past and a wide array of family artifacts.
Founded in 2000 to provide a safe, welcoming space in the community, Clay Pots located at 1635 W Pratt St offers GED classes, art and cultural programming, Community Wellness Workshops, and coffeehouse every Thursday night and Friday and Saturday morning when the center is opened and members of the community can come in to relax, chat, read, and enjoy a cup of coffee.
Located in the eastern half of Mount Clare, Traci Atkins Park is an important neighborhood feature, providing green space, a playground and fun to children and families in the community.
Community Association 
Mount Clare Community Council
President: Kintira Barbour
Email: mountclarecommunitycouncil@gmail.com
Meeting: Fourth Monday of the month at 7pm - via Zoom (contact the email for the association for meeting details) or see our calendar