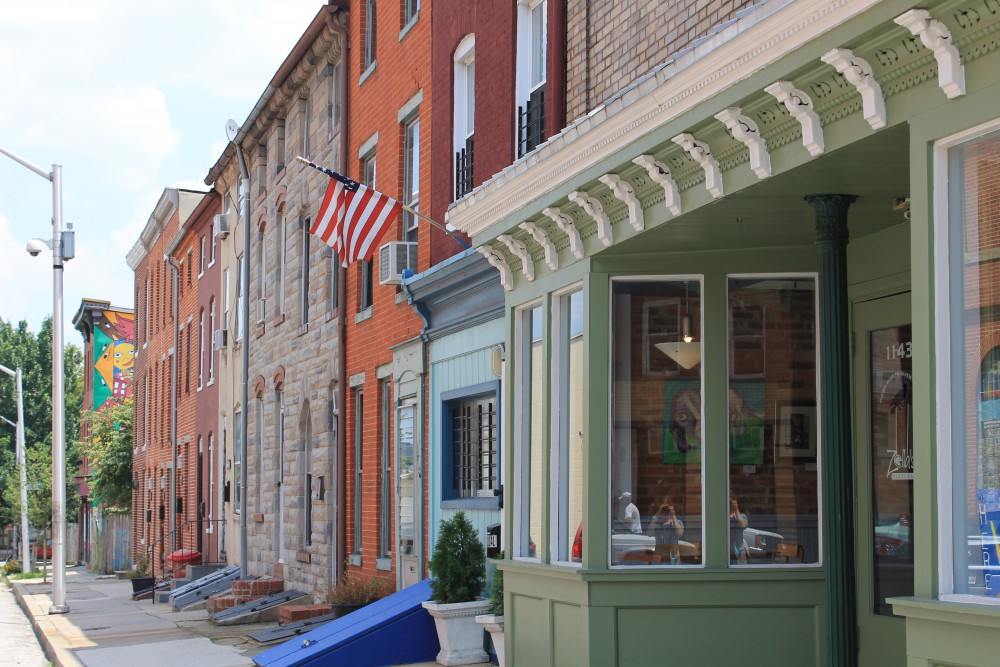 Boundaries and Map
The central neighborhood in the Southwest Partnership area, Hollins Roundhouse is bordered by Martin Luther King Blvd to the east, W Pratt St and Barre Circle to the South, S Carey St to the west, and W Baltimore St to the north.
Brief Neighborhood History and Description
Home to Hollins Market and boarding the Mount Clare Shops and the B&O Railroad Museum, Hollins Roundhouse was historically a neighborhood centered around the Railroad Industry. Today the neighborhood boasts a vibrant Market District and a number of excellent restaurants, a thriving artistic scene, and a number of community managed open spaces including the Mount Clare St Garden.
Neighborhood Information:
Sites of Interest
The oldest original market building in the city, Hollins Market is still a vital part of the neighborhood serving residents and visitors alike with fresh produce, fresh fish and meat, and prepared foods. The Market District is also home to restaurants & Bars such as Zella's Pizzeria and Hollins Place and small businesses such as the clothing store City of Gods and the Umri Siki African Store.
Located at 918 Lemmon St, the Irish Railroad Workers Museum celebrates the history of Irish Railroad Workers in Baltimore. The Museum consists of two adjoining row houses--one renovated to reflect the realities of daily life for railroad workers in the neighborhood and  the other sharing cultural information and historical artifacts.
For more than 35 years Black Cherry Puppet Theater has presented thousands of puppet shows and workshops to children and adults throughout the region. The Theater is based across from Hollins Market and puts on children's puppet shows (such as Punch and Judy) and workshops, puppet slams, and more.
Schools
James McHenry Elementary/Middle School
James McHenry serves students in grades Pre-K through 8 from the Hollins Roundhouse and Poppleton neighborhoods. Students at the school participate in a number of after school activities, including a JV Flag Football team and a Robotics Team.
Community Association
Hollins Roundhouse Neighborhood Association
President: Laura Dykes
Email: board@hollinsroundhouse.org
Meeting: Second Wednesday of the month at 7PM - via Zoom (contact the email for the association for meeting details) or see our calendar