As a medical patient, you are overqualified to share your experience on the health practices, education, and services you've experienced over the years.  It is purely [your] choice when it comes to the health decisions we make in life.  Funny, how many people would say, "if I'd known better then, I would've…", when considering current health conditions but continue to ignore the reality that we actually [do] know better now, so why not practice new habits.  Wholistic health is a huge topic of discussion in micro-communities but you don't hear much about collaborative practices between community and health institutions, so we decided to share!
To help build capacity and a platform for community voices the Southwest Partnership has teamed up with our anchor partner, the University of Maryland, Baltimore Patients Program to increase health awareness and bridge a gap in medical patient support across West Baltimore.  This project is a multi-stakeholder collaboration to foster a Patients-Centered Outcomes Research (PCOR) Advisory Board for the co-development of a framework to improve communications and health transactions between health institutions and communities.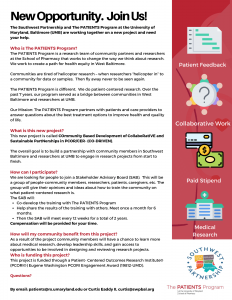 We need THREE Steering Advisory Board (SAB), Members to apply now to engage with medical researchers for this process of developing a framework that helps patients and communities make better health choices for themselves!
Steering Board members will work alongside other community members and researchers to guide a project whose goal is to build a partnership with community members in Southwest Baltimore and researchers at UMB to engage in health research projects from start to finish. Steering Board members will offer their input on creating training opportunities to prepare community members to participate in research and will then oversee the project.
COMPLETE BY FEBRUARY 1ST