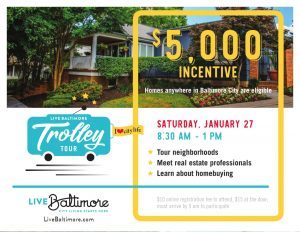 Registration is filling up fast!  Join Live Baltimore for a comprehensive introduction to city living! Take a narrated bus tour of more than ten neighborhoods, starting at the University of Maryland Baltimore; Southern Management Corporation Campus Center from 8:30 a.m. until 1:00 p.m. Meet with real estate professionals and community organizations, sit in on expert-led workshops and become eligible for $5,000 toward the purchase of a home anywhere in Baltimore City! Individuals excited about city living will benefit from this fun and informative event!
Be sure to book your seat for the Live Baltimore Trolley Tour, click here: Trolley Tour to learn more!
While there, be sure to visit the Southwest Partnership table to learn about our organization and meet some of our Neighborhood Association Presidents!