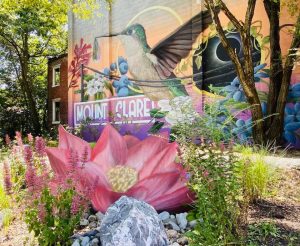 Clean, vibrant, beautiful streets and public spaces are central to a community that people want to live in. Research shows that living near blight and uncared for public spaces negatively impacts mental health while public art, community gardens, and other projects that make our neighborhood streets and public spaces safer, more accessible, and more beautiful benefit the whole community. The Vision Plan identifies a number of projects which increase the vibrancy of streets and public spaces and increase positive programming and activities in our public spaces. Some of these projects have been funded through our Neighborhood Grants program!
Through grant funding, the Southwest Partnership is able to provide grants, usually up to $5,000 to community members for capital projects that 
Increase the vibrancy of streets and public spaces

Improve the quality of life for current residents

Reduce or prevent blight

Increase and encourage community engagement and use of public spaces
Past projects funded have included murals and other public art, improved lighting in public spaces, neighborhood signs, and improvements at community parks and gardens. Neighborhood associations, block groups, and other community groups in the Southwest Partnership area are eligible to apply, and the grant program funds capital projects that will make a lasting, physical change to the neighborhoods.
Fall 2021 Grants are now open!
The program provides grants up to $5,000 for capital projects in the seven Southwest Partnership neighborhoods.
Applications, and all required application materials are due via email to elizabeth@swpbal.org by 11:59pm on November 5 2021
For more information please contact Elizabeth Weber at grants@swpbal.org or 667-281-9082
Application Materials
Application Guidelines: https://docs.google.com/document/d/1eDIPE18GJ8KBZ2O1m74Pwes0cuZD6gTXjnt5oDGkG-4/edit?usp=sharing
To edit the application and required materials download and save to your computer.
Application: https://docs.google.com/document/d/1MF36-TTouKDlAyjl1AK60-hqh4ppQOq7/edit?usp=sharing&ouid=114216508942507364288&rtpof=true&sd=true
Budget (required): https://docs.google.com/spreadsheets/d/10Id9o_0YkImpEp0YlE7ZkUEpliVdzAyX9pc7hSD8TZE/edit?usp=sharing
Maintenance Plan (required): https://docs.google.com/document/d/10gJXrdh4KhUncwESEoDplZi1pqUc_hkYD1ks122f2Ys/edit?usp=sharing
Timeline (required): https://docs.google.com/document/d/1FAnPyZByn7seLEFYOJO_PAfDPRwt21KsB0VaBGinbB0/edit?usp=sharing
Site control for projects on private property: https://docs.google.com/document/d/1UetwqWWrYGwHUjvdizxZZKY9mpXM-xFtIACHIkZRgtc/edit?usp=sharing
For inspiration take a look at the projects below and our master list of funded projects!