Southwest Palooza
September 29, 2018 @ 3:00 pm

-

7:00 pm

Free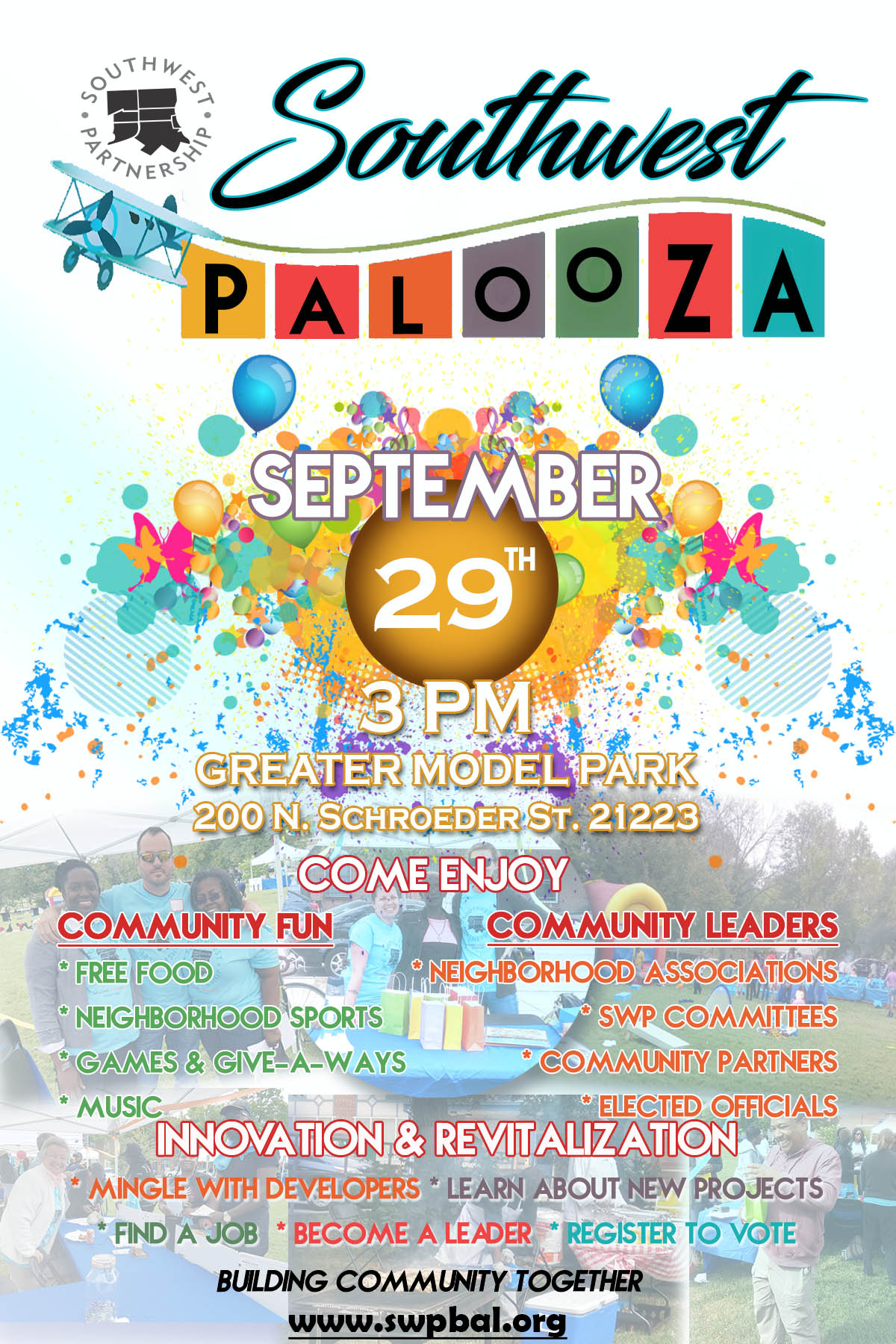 [vc_row][vc_column][vc_single_image image="13622″ img_size="full" alignment="center"][vc_column_text]The Southwest Palooza is the semi-annual community celebration we host for our neighborhoods, anchor partners, and community partners Building Community Together.  This family-festival style event is a snapshot of our organization at work!  Come enjoy this FREE PALOOZA and learn how you can become member of the Southwest Partnership – (volunteer, homeowner, partner, investor, or patron)!
Event Activities and Attractions:
Music (DJ/Live Band)

Moon Bounce

Organized team sports – Southwest Sports & Fitness

Arts & Crafts

Voter Registration & Education

Q&A with elected officials of 40th District

Dunk Tank

Give-a-ways & Raffle

Movie in the Park w/ Benbow Concessions

Anti-littering Campaign Kick-off
[/vc_column_text][vc_cta h2="Hey! Sign-up for our Southwest Leadership Development Program" h4="Volunteerism for a better tomorrow!" h4_font_container="font_size:https%3A%2F%2Fgoo.gl%2Fforms%2FcwZU5SqFH3yQLzyF2″ h4_google_fonts="font_family:Alegreya%20Sans%3A100%2C100italic%2C300%2C300italic%2Cregular%2Citalic%2C500%2C500italic%2C700%2C700italic%2C800%2C800italic%2C900%2C900italic|font_style:400%20regular%3A400%3Anormal" txt_align="center" color="white" add_button="top" btn_title="REGISTER NOW" btn_color="white" btn_size="lg" btn_align="center" use_custom_fonts_h4="true" btn_link="||target:%20_blank|" btn_el_class="paloozaForm"]
Are you ready to be the change you'd like to see in your neighborhood, but could use some help? Let the Southwest Partnership provide you with the resources necessary to execute projects and actions to impact your community! REGISTER NOW and complete the survey to help us best support your efforts.
3 Easy Steps
Register
Apply
Volunteer
[/vc_cta][/vc_column][/vc_row][vc_row][vc_column][ult_countdown datetime="2018/09/29 01:36:51″ countdown_opts="sday,shr,smin,ssec" br_style="inset" br_size="2″ br_color="#00bcd4″][/vc_column][/vc_row][vc_row][vc_column][/vc_column][/vc_row]
Related Events