Southwest Jubilee
January 26, 2019 @ 5:30 pm

-

9:30 pm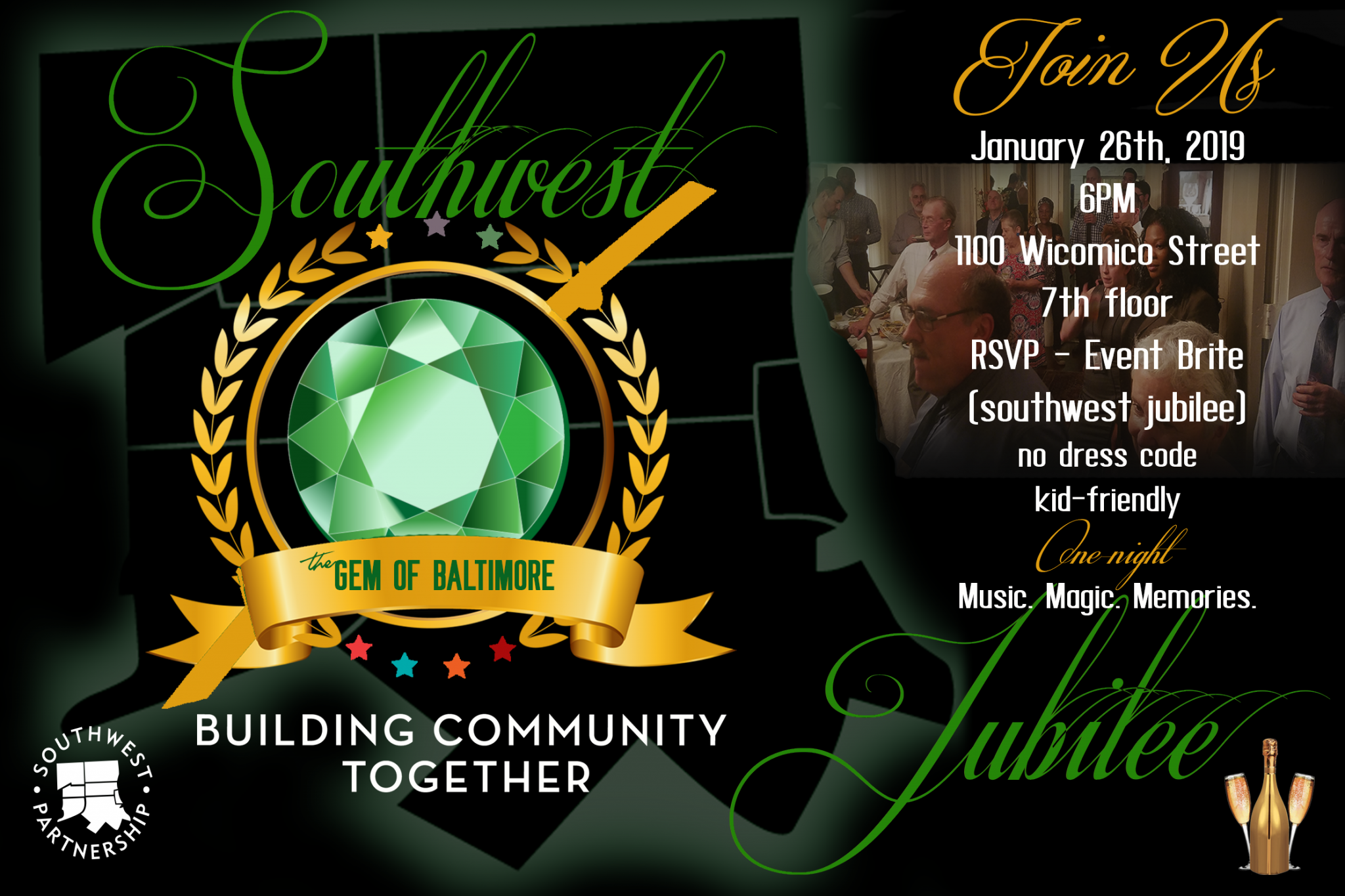 [vc_row][vc_column][ult_countdown count_style="ult-cd-s2″ datetime="2019/01/26 20:13:51″ ult_tz="ult-usrtz" countdown_opts="sday,shr,smin,ssec" br_style="solid" br_size="6″ br_color="#3d3d3d" br_radius="20″ br_time_space="20″ tick_col="#f44336″ tick_style="font-weight:bold;"][/vc_column][/vc_row][vc_row][vc_column][vc_single_image image="14922″ img_size="full"][vc_images_carousel images="14388,14389,14392,14393,14391,14390,14395,14396,14397,14398,14399,14400,14401,14402,14403,14404,14405,14406,14407,14408,14409,14410,14411,14412,14413,14414,14415,14416″ img_size="full" speed="3500″ autoplay="yes" hide_pagination_control="yes" hide_prev_next_buttons="yes" wrap="yes" title="Southwest Jubilee 2018 (community leaders, residents, business owners, and patrons: Building Community Together)"][/vc_column][/vc_row][vc_row][vc_column][vc_column_text]A Celebration for Southwest Baltimore!
The Southwest Partnership welcomes you to join us at our 4th Annual Southwest Jubilee! We love to start every year off by celebrating the collaboration and achievements of our seven-neighborhoods and anchor partner institutions, through their commitment to the idea of Building Community Together.  Come witness our vision plan for the restoration and revitalization our neighborhoods along with projects of our seven-volunteer-committee groups, as we Fight Blight, Invest in the People, Celebrate Community Culture, and Raise Capital Funds for the area!
This event will feature:
Social Power-hour w/ Community Leaders –  5:30 (doors open) 
Door prizes
Volunteer & workforce opportunities
Annual Announcement – 6:30  pm
A word from our President, Khandra Sears
Building Community Together, Executive Director Michael Seipp
Keynote Speaker – Mayor Catherine Pugh
Awards Ceremony
Annual Dinner & Party – 7:30 pm
Catered buffet and bar
Live music by the Virtuoso Band
DJ Destrucktion
Strolling Magic – Anthony Ware, Magician
Save your seat now, for our fourth annual Southwest Jubilee, hosted in one of Baltimore's oldest and most historic neighborhoods, Pigtown, at the Wicomico Building.  The Southwest Jubilee is free to the public but all guests must RSVP as we have limited seating and refreshments.  If you are a community member or looking to move into the area, either as a business or homeowner, or an enthusiasts of Baltimore culture and interested in all of the hooplah about the "Gem of Baltimore", than this is one event you do not want to miss!
There is no strict dress code.  Please be party friendly![/vc_column_text][/vc_column][/vc_row][vc_row][vc_column][vc_message]
FAQ:
How do I get my tickets
Get Your Tickets on Eventbrite – Southwest Jubilee, they are FREE but only reserved guests can enter
Accessibility
Residents can walk to the location.  Use the main entrance, follow-signs and take the elevator up to the 7th floor (see image below).
ADA / Wheel chair – front door entrance ONLY.  Use the main entrance, follow-signs and take the elevator up to the 7th floor.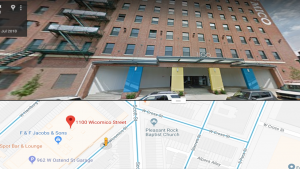 Parking – garage entrance is on Ostend St between Wicomico St. and Hamburg St. (see image below).  Once there, use the stairwell to the entrance, follow-signs to elevator.  Take elevator up to the 7th floor.
How do I nominate a candidate for the SWP CIA?
Nominate A Candidate for our 2019 Community Impact Award
The award recognizes community members who demonstrate the following characteristics:
Achievement

in projects and initiatives that strengthen and support Southwest Partnership area residents, families, schools, businesses, organizations, and/or communities.

Consistency

in their commitment to community leadership and engagement.

Longevity

in support for neighborhood projects and initiatives.

Collaboration

with community members, businesses, organizations, institutions, and government agencies who may have differing goals to achieve a stronger community.

Resource Development

to increase community capacity.
All submissions will be sent to honor@swpbal.org, however you can  also print the application and mail it to Southwest Partnership 1138 Hollins St 2nd Floor.
Nomination Deadline is January 18th 2019  
What are the Food & Refreshment options?
Meat – Chicken
Vegan option
Salad options
Water, Lemonade, Ice tea
Wine, beer, and sangria
Can I bring children?
Yes, this is a family affair!  We will have activities and games available.
Is there a Dress Code?
No.  Attire is your choice.  We welcome all of our residents, workers, faith goers, partners, and patrons to our community celebration!
A photo-booth will be on-site along with a photographer to capture the nights memories.
What is #StoriesFromSOWEBO?
A video documentary of residential/patron experiences while living, working, or frequenting the area of Southwest Baltimore.  To provide a brighter perspective of the city we call home and the area that is considered to be, the Gem of Baltimore!
A video-booth will be on-site collecting stories from guests, to sign-up and document your experience(s) in the Gem of Baltimore, email Curtis@swpbal.org!
[/vc_message][/vc_column][/vc_row]
Related Events